Survivor Edge of Extinction episode 7 press photos: The merge
It only took 17 days to arrive at the merge this season, as the Survivor: Edge of Extinction episode 7 press photos show 12 of 13 players in red buffs.
The Survivor: Edge of Extinction episode 7 press photos do not spoil who arrived from Extinction Island and is back in the game.
It's so weird to have a double-length Survivor slot just ahead of the merge in a season where a player will come back a la Outcasts twists. We have to catch up Episode 6 and leftover episode 5 photos at the end while also showcasing the Edge of Extinction players and, later, the player who makes their way back into the game.
More importantly, there are a ton of Survivor: Edge of Extinction episode 7 press photos from the merge to get to first, so let's start right away!
This is the moment where Aubry (offscreen) reveals to the Edge of Extinction players that the time is now to get on a boat and compete for the chance to get back into the game.
Here's your first look at the Survivor: Edge of Extinction merge tribe, with the confirmed red merge buff. Instead of Kama, Lesu and Manu competing in this challenge, they're in for a big surprise.
Here is the "iconic Survivor moment" Jeff Probst teased, with five players with Manu buffs and one player with a Lesu buff (five OG Manu and one OG Kama) hoping to earn a red merge buff.
The entirety of the Extinction Challenge (?) isn't shown, but the first part sees the players climbing over a reverse rope obstacle, head to pass through a roped-off gate (??), untie a series of sticks at a mat, head to a cage where you need to tie those sticks together to retrieve keys a la the Outcasts challenge in Pearl Islands, then finally (I think) complete a swiss cheese puzzle.
Here's a closer look of Chris Underwood trying to get through the gate … I think that's what he's doing. The ropes seem attached to the poles, at least.
Skipping ahead, let's take a look at the merge feast. There are a ton of bowls and buckets to hide advantages or clues to an idol!
We can't see the right side of the feast to avoid spoilers, but we can see Lauren sitting on the far side alongside OG Kama members Victoria, Julia, Gavin, Julie and Eric. That looks like a strong five, right there.
Hey, one of Gavin's pineapples manifested itself on the table. His mind!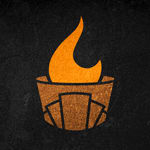 Want your voice heard? Join the Surviving Tribal team!
Write for us!
Some new merge tribe dynamics seem like old dynamics; Wardog talking and everybody listening to him. Wonder if that will come back to haunt him?
Speaking of expected behavior at the merge, Joe has a small group of people around him as he works on providing at camp around the fire.
Kelley and Lauren are doing their best to integrate into a scenario that likely sees Kama with an overwhelming majority, looking on as someone does something offscreen. This group is often seen a lot in the press photos, making me think a major Manu player returns from the game (hence we don't see David and Wardog often in the photos talking to them).
Here's Aurora, Ron and Julia talking about something with extreme focus and consternation. They've been targeting Joe since before the merge, but it might be smart to set the pace and take out a Manu member first before cannibalizing their own. However, Joe can go on an immunity run…
Here's a look at the first individual Immunity Challenge of Survivor: Edge of Extinction; hold an idol on a stick over your head on an increasingly smaller beam.
Here's a close-up look at the Immunity Necklace; a trinket that has a more visually appealing stand. The bottom-most disc looks like it hints at a phoenix, though, which is an awesome tie-in for Survivor: Edge of Extinction and a player's revival.
There are a ton of makeup photos from the past few episodes, as well as more headshots of the Survivor: Edge of Extinction episode 7 merge. Check out a variety of the rest above.